What Others are Saying...
I'll Read it Again and Again
I just read your eBook about Inner Peace and so much more. Michael, what you sent me is so amazing! This will help me in my daily life, and I will read it again and again, because it's so good. Thank you so much so sharing your eBook with me.
Email Message
Seven Victories of the Divine Child
Michael is at the top of my list of people who have profoundly touched my life in a meaningful way and I anxiously await his second book.
Amazon Review
Captivating, thought provoking
…a must read. I am reading it through for the second time, capturing even more as I absorb every detail that Michael Jones sets forth. The book is a treasure. He makes deep topics easy to comprehend. You find yourself taking your time to make sure you hear every word. It teaches a perspective that is fascinating, and that makes you really think about how you approach life, and how life approaches you.
Amazon Review
Remarkable Spiritual Book
I love this remarkable book! It is one of the most well-written pieces of spiritual work I have read in a very long time. It answers age-old questions with uncanny insight whether for a beginner or well-seasoned spiritual seeker. This book cranks it up a notch and then magically puts it all in perspective "attuning us to the presence of the Divine within us..."  I highly recommend it. This is one book I refuse to loan out!!!
Amazon Review
Couldn't put it down, all the answers I was seeking!
This book provided the deeper insight, history and infrastructure behind what many of us seekers are experiencing or reading in other books. Not only did it thoroughly cover all topics in the new consciousness or awakened spirituality, it brought together traditional concepts of religion…illumination would be the best way to describe it!
Amazon Review
I can't say enough! Loved this book!
I will definitely read this one over and over. It resonated so deeply with me and could hardly put it down! The prayers are beautiful. Thank you for reminding me I am a Divine Child! We all are!
Amazon Review
Filled with wisdom
…as Michael Jones points out, there's an old saying that "When the student is ready, the teacher appears." Well, I was ready for a spiritual breakthrough, and this book definitely helped to give it to me. Basically, the book is amazing and I recommend it to anyone ready for a spiritual breakthrough.
Amazon Review
Open the treasure within
Do yourself what may be the biggest favor of your life: open your heart and mind to the wisdom in this book.
A Truly Eye-opening, Life Changing Revelation
A Practical Guide to Eliminate Fear, Anxiety and Worry, while Gaining a Lasting Sense of Inner Peace.
Are you ready to take meaningful significant steps on your path of spiritual growth and discovery? If so, be ready to be inspired and motivated…
The Seven Victories of the Divine Child is a thought-provoking spiritual guide which introduces real-life, practical and proven universal wisdom tools which can be used to overcome the seven battles we all come face-to-face with throughout our lives.
By shining light on common myths and misconceptions that many people have accepted for centuries, this step-by-step guide provides answers we've been searching for regarding our soul's purpose, forgiveness, and finding inner peace to name a few.
The Seven Victories of the Divine Child is written for the beginner or a seasoned individual. It makes deep topics easy to comprehend, such as living in the present moment, dealing with fear and guilt, and the power of positive thought.
Learn to be in control of how you react to any situation in life through self-mastery, meditation, special prayers and by learning our higher attributes, in short, how to connect with our spiritual selves.
You'll also learn how to experience God's bliss here and now. Learn to listen to the voice within to help positively influence your life. Gain insights into cause and effect, abundance, health and happiness.
This well-written, easy to apply guide teaches you how to extinguish feelings of fear, anxiety and negativity, while finding purpose and fulfillment in your personal relationships as well as your career.
Discover how eliminating internal conflicts results in inner peace.
Who is the Divine Child? In this book, you'll learn that it means YOU!
A Modern-day Revelation of Spiritual Growth
Did you know that you are the recipient of a divine inheritance, just waiting to be claimed?
What is your divine inheritance and how do you put yourself on the path to claiming it?
You are about to embark on a unique spiritual journey. In this remarkable book, Michael Jones reveals, through ancient teachings and current insights, the hidden path to claim your divine inheritance – a path that has been lost for far too long.
The Seven Victories of the Divine Child points the way to and through the doorway of higher consciousness. Discover a direct experiential path for realizing the unity of the individual and the Divine.
The perceptions gained through these teachings offer profound, positive, life-changing effects for the spiritual seeker. In addition to eliminating fear, worry and anxiety in your life, you will find practical guidance to overcoming life's everyday challenges.
This book is a life manual for those who wish to take their spiritual growth and consciousness to the next level.
…a universal spiritual message for seekers of all faith traditions.
Reader Reviews and Testimonials
Summary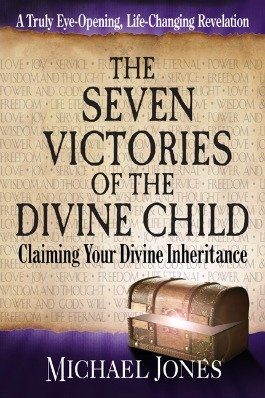 Author Rating





Brand Name
Product Name
The Seven Victories of the Divine Child